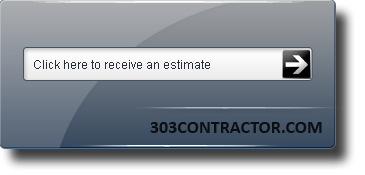 Colorado Contractors is currently providing any type of tile installation or repairs excluding tile polishing. Weather your needing 3,000 SF of tile flooring with 6" tiles in a pin-wheel pattern, or a custom double shower with mortar beds and tile benches; 303 can do it. Did you know Denver Granite Counter Tops in granite tile is such a popular trend not only because of the mountainous area, but because granite is easy to clean and hard to scratch?  Granite weather in slabs or as 12" tiles is also non-porous so the material does not soak up water and bacteria. We can provide you tile of any type for counter tops, backsplashes or full tile walls and ceilings such as in a sauna or bathroom. Keep in mind that choosing tile is not just about looks. For instance green marble tile is susceptible to acid and shouldn't be used around toilets or in kitchens. Travertine tile is very porous and needs extra care at the tile of Colorado Tile Installation to insure you wont have leaks or damage down the road. heated flooring is also something Colorado Contractors will do. Something to keep in mind with heated tile flooring is that you will need at least double the amount of mortar and your floors will be a good inch and a half higher. Special considerations needs to be realized when a floor goes up even an inch such as laundry machines that sit under shelving etc etc..

Working with high quality experienced contractors means little details that can add up to big problems will be avoided. Here are some things to know when it comes to tile in Colorado:

-Don't line up your tile joints on your decking tile with the tiles on your rise or along edges. This leaves open and vulnerable places of grout that will likely come out over time.

-Any tile spacing less than an 8th of an inch should have non-sanded grout. Sanded grout is a lot like cement and gathers its strength in larger amounts. Super small amounts of grout can easily crumble apart and have not real bonding strength.

-Cement board 1/2' thick should be used whenever possible unless tiling onto a concrete slab such as in a high rise apartment or basement. Be careful however that you don't create a large difference in rise where your tile threshold meets a different substrate such as carpeting. That would be a lot of work to re-do!

Why work with Colorado Contractors?