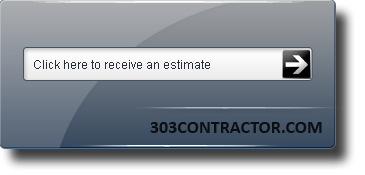 A retaining wall in your Denver landscape can turn an uneasy yard into a useful space. 303 Colorado Contractors can build you a super firm and practical retaining wall that will not only look great but give you back lost space. Colorado Contractors built two tiered retaining walls for the Rose's in Parker Colorado, turning a sloping steep yard into a safe play area for the kids. Any walls less than 4 feet tall do not need permits for retaining walls in Douglas County Colorado. But, an actual building permit for a retaining wall is required when its over 4 feet. In order to receive one of these permits the following would be needed: Douglas County Building Permit Application.

One set of Engineered Drawings, stamped and signed by a State of Colorado registered engineer. One site plan showing dimensions to the property lines.

And a letter from Architectural Control Committee. Retaining Wall permit fees for Colorado are determined by the project estimate or value as with most all permits in the state of Colorado. So as with the Rose's, you can get around this by building smaller tired walls. Smaller walls are also safer for pets and kids. We will provide you these details as well as all materials required to build a retaining wall in Castle Rock, Castle Pines, Highlands Ranch, Lone Tree and Parker Colorado. Our expert Denver Metro Contractors can build beautiful and strong retaining walls from brick, natural stone or wood which is usually not a preferred method for Colorado and its weather.

303 Contractor loves to not only build walls for your yard adding depth and beauty, but to provide general landscaping and maintenance as well. If you need a deck retrofitted, inspected or refinished -- we do that! If you need an estimate on repairing concrete walkways, pouring caissons, making an amazing looking paver walkway in Denver, or a paver patio in Castle Rock, we do all that too! Our Colorado Contracting crew will work as far north as Westminster and South down to Colorado Springs. However for small jobs we only stick to South Metro Denver and Douglas County, Colorado. Our team, when not too busy, will also provide maintenance such as weed eradication and yard cleanups generally charging from $15.00 to $25.00 an hour with a hundred dollar minimum. Let us know how we can help your yard!